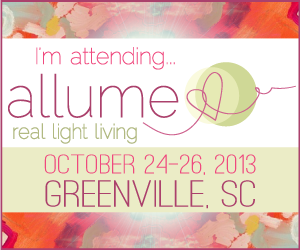 In just under a week, I'll be heading to Allume! A meeting of Christian bloggers.......writers with a purpose.
I'll be missing my high school reunion and the retirement party of a dear friend and the pastor who performed our marriage ceremony. I know in my heart, it is exactly where I need to be. I'm going alone. I'll be rooming with 3 women whom I have never met. I am beyond excited to get to know these ladies and of course, I'm also a little nervous.

I registered to attend a photography workshop the first afternoon. I desperately need to learn to use my newish fancy camera, but truth be known, the main reason I signed up was so that I would have the opportunity to meet a few people before the conference officially starts. To plan to meet again later that day and to sit together at dinner. I also signed up to volunteer at a sales table. Again, I'm happy to serve, but it will also give me another avenue to connect with someone else...purposefully...you know someone to sit beside and chat with, without the awkwardness of inviting myself to join her in the empty seat at the dinner table.

For the past several weeks, there have been several posts written on the Allume blog specifically for conference newbies like me. I have read them carefully and taken the writers, former newbies, words to heart. To share all of my own thoughts, hopes and fears about this upcoming adventure, I thought I'd take the next few days to write a series of posts I'll call, "7 days of Before Allume."
And hopefully, when I return home, Ill be bursting with inspiration and I'll write the squeal series...you guessed it, "7 days of After Allume."

If your reading here because you'll be a newbie too....or maybe you are a former newbie with a bit of encouragement....or maybe I met you last night at dinner or in that photography class...I'd love to hear from you.

And that is day 1.