Some of you know that I am a sporadic reader....as in I don't always have a book I'm really into. I read on vacation...on road trips...and at other random times. This past weekend, Emily and I headed out of town for a volleyball tournament. I did not have time to get to the library before we left, so I ended up reading these.....
I'll say, they kept me pretty entertained...but not as much as a really good novel would have.
Emily had some reading to do also.
Some for pleasure and some for school.
Jonathan and Zac spent the weekend at home. Jonathan has really gotten into a series that some of you recommended for him over the summer.
I couldn't take a picture of the actual book because he took it to school to read on his breaks.
And Zac and I are reading this book together at night.
We are almost finished.
So~ What are you reading?
What do you recommend? I have seen lots of reviews out there in blogland, but my next book will come from a recommendation here, I hope!
And another thing...do you read a book the old fashioned way, or do you read on a Nook or a Kindle?
Thanks for sharing your thoughts.
Today is alphabe-Thursday!
The letter of the day is "R".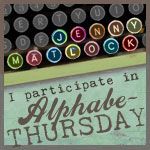 To read more of these really fun posts...head on over to Jenny Matlock's blog.